Mozart Dinner Concert in Christmas time

in Salzburg
Location:
Baroque Hall, St. Peter Stiftskulinarium in Salzburg
Concert
Program
MOZART: Serenade G Major KV 525 "A Litte Night Music"
MOZART: Arias and duettos from "The Magic Flute" KV 620
MOZART: Arias and duettos from "Don Giovanni" KV 527
MOZART: Arias and Duettos from "Le Nozze di Figaro" KV 492
Amadeus Consort Salzburg
The Sound of Mozart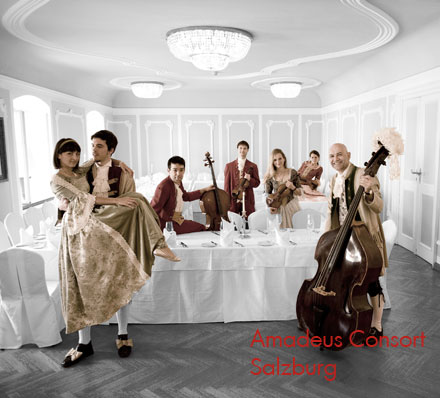 Why should Mozart just sound "historical"?
The AMADEUS CONSORT SALZBURG now overrides this abyss. The group plays on original instruments and in appropriate period clothing. What has been a "no go" for almost decades is now a sign for new, fresh and free interaction with the audience and Mozart's music. The audience becomes participants because the musicians and actors display intelligent and wise interpretation of our spirited and vivid "opera-like" performances. Our musicians have profound knowledge about historical instruments and their treatment. This is what makes the concerts of the AMADEUS CONSORT SALZBURG so special and remarkable!
Two opera singers and five strings – all graduated from the world-famous University Mozarteum Salzburg – guarantee lively and first-class performances of Mozart's music. The ensemble has performed concerts all over the world and was part of TV productions for more than 50 broadcasting stations. Their first CD has been sold more than 40,000 times.


Ticket Categories
Mozart Dinner
Mozart Dinner Exclusive
Location
The Baroque Hall St. Peter with its stucco and frescoes is a magnificent showpiece. The Mozart Dinner Concert takes place in the unique historic atmosphere of Stiftskeller St. Peter . It is part of the famous Benedictine monastery and is located in the oldest part of Salzburg. The Baroque Hall is one of the last concert halls in Salzburg where real candle light is still permitted. Stiftskeller St. Peter itself is the oldest restaurant in Europe first mentioned in 803. Even the Mozart family had dinner there. In October 1783 Mozart´s sister "Nannerl" wrote in her diary: "papa and henry had lunch at st peter... made music ... rained heavily".