Mozart´s most beautiful compositions
When art meets culinary delights

The musical program of the Mozart Dinner Concert is performed in three parts before and in between the courses of the dinner. Each part is dedicated to a famous Mozart opera: Enjoy arias and duetts from "The Magic Flute", "Don Giovanni" and "The Marriage of Figaro" as well as the very famous first movement of "A Little Night Music". Experience a lively and first-class performance by the Amadeus Consort Salzburg, consisting of two opera-singers and an exquisite chamber ensemble, all dressed in authentic Rokoko costumes.


Programme
1st act
"Don Giovanni" KV 527

---
Duett "Giovinette che fatte all'amore"
Aria "Batti, batti o bel Masetto"
Aria "Madamina, il catalogo..."
Aria "Vedrai, carino"
Canzonetta "Deh vieni alla finestra..."
Menuetto | Duettino "Là ci darem la mano..."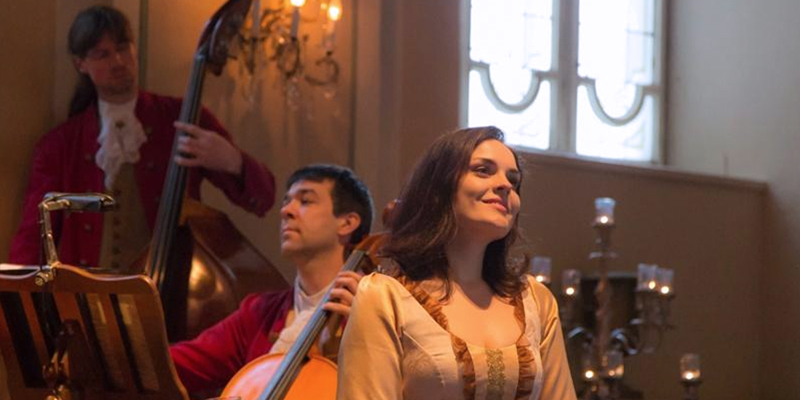 2nd act
"Le Nozze di Figaro" KV 492

---
Ouverture. Presto
Duetto "Cinque, dieci, venti..."
Aria "Se vuol ballare, Signor contino..."
Aria "Non so piú cosa son..."
Aria "Non più andrai..."
Aria "Deh vieni non tardar..."
Duetto "Crudel, per che finora..."
3rd act
"Die Zauberflöte" KV 620

---
"A Little Nightmusic" KV 525, 1st mov., Allegro
"Der Vogelfänger bin ich ja"
"Bei Männern welche Liebe fühlen..."
"Schnelle Füße, rascher Mut!"
"Ein Männchen oder Weibchen"
Duett "Pa-pa-pa-pa"